---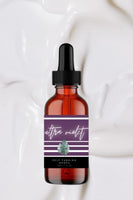 Our best selling formula now available in TAN DROPS - perfect for your face! Tan drops can be used anywhere on the body, but we absolutely have not found a better solution for creating the perfect glow on your face, hands and feet!
Tan Drops are enriched with plant-based hyaluronic acid for healthier, smoother and supple skin. Ideal for those wanting to wake up and take on the day with glowing, golden and super soft skin.
💜 Add two to 12 drops to your favorite moisturizer, mix together, and apply to skin.
🙌 Wash palms of your hands after use.
⏰ Tan develops in four to six hours (many prefer an overnight bake)
💦 More drops equals more glow: Use two to four drops for a sunkissed look; four to eight drops for a golden look; and eight to 12 drops for a bronzed look.